A 9 month trial starts in Liverpool to let commuters use bus lanes in the city. All bus lane cameras will be immobilised.

Liverpool scraps bus lanes in nine month trial
Councillor Tim Moore
Bus lanes in Liverpool will be scrapped from today as part of a trial to reduce congestion.
Twenty-four lanes will be suspended for the next nine months.

Commuters allowed to use Liverpool bus lanes
Commuters will be allowed to use Liverpool's bus lanes in a trial that begins today. The locations are:

Lime St inbound
Kensington inbound
Warbreck Moor inbound
Horrocks Avenue
Strand St inbound
Kensington outbound
Longmoor Lane inbound
Speke Hall Avenue
Strand St outbound
Prescot Rd inbound
Wavertree Rd outbound
Upper Parliament St inbound
Chapel St inbound
East Prescot Rd inbound
Picton Rd outbound (with bus gate)
Park Rd inbound
London Rd (bus only right turn) outbound
County Rd inbound
Wavertree High Street inbound
Irvine St, Mount Vernon inbound
Brownlow Hill outbound
Rice Lane outbound / Childwall Valley Rd inbound
Old Hayment
St Johns lane - in and outbound
Liverpool scrap bus lanes in 9 month trial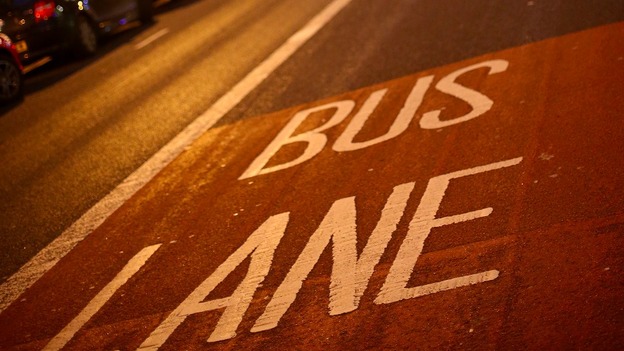 Council bosses in Liverpool will begin a trial today to allow commuters to use the cities bus lanes.
All bus lane cameras will be immobilised and work will begin to removed signage.
Mayor of Liverpool, Joe Anderson, said:
"I have asked for this trial suspension so that we can explore what benefits, if any, bus lanes are bringing to our city. Keeping the city moving for our motorists, businesses, residents, commuters and visitors is absolutely vital, so it's important we take a proper look at this.
Some people have suggested to me that we shouldn't do this because the bus lanes generate income of £700,000-a-year for the council. But in my view it would be immoral to treat motorists as a cash cow.'"
The Green Party opposes the move on the basis is it discourages people to use public transport.